Skip to Content
What to Expect From Indianapolis
We are proud to have our news conference in Indianapolis. The city has hosted major events, such as the Super Bowl, and is more than equipped to provide an engaging and exciting experience. International Newspaper Group is committed to giving visitors a wealth of knowledge and networking opportunities and providing much-needed relief from the daily routine. There's no better place to do that than Indianapolis. Learn more about what you can do in Indianapolis below.
2023 Conference Announced!
Downtown Indianapolis, September 27, 2023 – September 28, 2023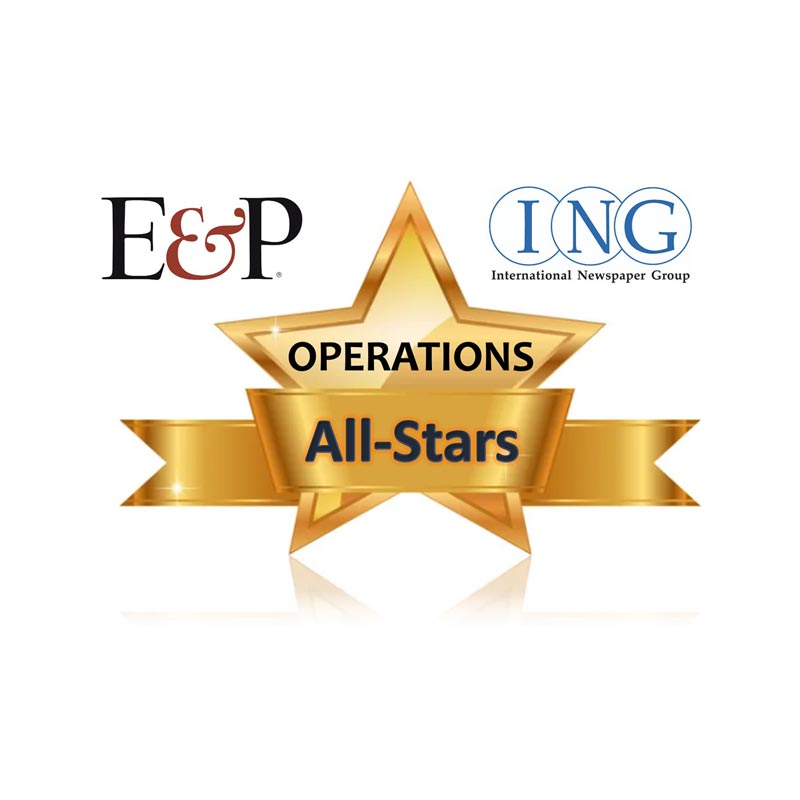 Do You Have an "Operations All-Star" on Your Team?
The pros working in Operations not only understand the mechanics of every department, but their expertise goes beyond knowing presses and inserting equipment and capital expenditures. These pros contribute new thinking, concepts, and sometimes unconventional methods of finding profitable solutions. Help us recognize these leaders by nominating a colleague today so that we can acknowledge their contributions in this demanding field to the global news publishing industry. E&P will be profiling the best of the best to its industry audience over the next few months.
Winners to Receive a $2,000 Cash Prize!
This year E&P and ING will honor winners in three categories:
Large Market All-Star
Small Market All-Star
Pre-Press All-Star
The winners will receive $2,000.00 each from ING in addition to imPRESSions Worldwide & CellMark paying their airfare and lodging so each winner can attend the ING Conference, September 27, 2023 – September 28, 2023 in Indianapolis, IN.
Don't delay, nominate your "Operations All-Star" now!"
Indianapolis: A Hidden Gem in the Heart of America
Indianapolis is the birthplace of the famed satirist and author Kurt Vonnegut. It has hosted a Super Bowl. It has a winding and enriching Cultural Trail leading to artsy and bustling neighborhoods. It's a place for learning with several nearby museums. While you're in town for the convention, you can enjoy any number of activities and sights, including:
The Cultural Trail
This eight-mile path begins in downtown Indy, passing by everything that makes Indianapolis what it is. The Pacers Bikeshare program allows you to easily travel outside the coziness of downtown Indy to other neighborhoods, like bustling Mass Ave or artsy Fountain Square.
The Canal
Take a stroll along the Central Canal. It is just a stone's throw from most downtown hotels and the convention center, making it an ideal destination for breaks between seminars and the many networking opportunities you'll have.
St. Elmo's Steakhouse
Opened in 1902, St. Elmo's has been an Indianapolis landmark ever since. Stop by for a steak or their world-famous shrimp; you never know who you might find. The convention takes place during the NFL season, so you never know who you might run into.
Museums
The Kurt Vonnegut Memorial Library is less than a mile from the convention center. But the Indiana State Museum, the Indianapolis Zoo, and the Eiteljorg Museum (home to a stunning array of Native American and Western art) are nearby too.
Monument Circle
The Soldiers and Sailors monument anchors the central hub of downtown Indianapolis. There are plenty of restaurants in the vicinity, but the real star of the show is the observation deck at the top of the 284-foot monument.